Ultrasound Probe / Transducers Guide
Ultrasound Probe ( also known as Ultrasound Transducer ) and its effective working functionality plays a pivotal role in a reliable and accurate patient diagnostics.
Down the years, Many concerns have been raised on using a defective ultrasound probe as it can cause harmful consequences to both the users ( sonographers, practitioners and radiologists) and patients. Such effects include infection transmission, affected image quality leading to misdiagnosis and electrical shocks.
"Prevention is better than cure" - Erasmus Desiridus
As the saying goes by, Probe Preventive maintenance is always a better choice rather than spending thousands of dollars for the ultrasound transducer repair. According to Various studies, it has been indicated that 35% - 40% of the ultrasound probe in a non- tested hospital requires to be attended.
With an experience of 10+ years in the ultrasound probe repair field, we have repaired around 3500+ probes in total.
From our experience, at any point of time, around 30% of ultrasound probes need some kind of attention/repair.

The key to this article is all about early inspection of your ultrasound transducer before it advances to the major transducer problems. We would also like to throw light on how early intervention and inspection of your probes could considerably help you in saving money for repair.
It also highlights the difference between refurbished and second hand ultrasound probes and points to consider while replacing your damaged ones.
Table of Contents:
1. Visual Inspection
2. Cost Analysis
3. Choose the Right Service Repair Provider
4. Replace the Transducer : Refurbished vs Second Hand Ultrasound Transducer
1. Visual Inspection
Visual inspection of your transducer on a daily basis is a key to prevent major repairs.
As per our internal data collected, it is noted that OEM/ Manufactured approved chemicals , in some cases tend to cause detrimental effects on the probe. Even in many moments, improper application of OEM approved chemicals can variably attract short and long term consequences to your transducers.
It has also been reported that your ultrasound transducer's matching layer gets swollen due to the over immersing of the probe in the non-recommended levels of gels or sterilising agents. Such faults could result in shadowed or dropout images.
Be it sterilising agent / gel or disinfectant, fluid ingress can lead to performance deterioration over the time.
One of the common defects which can be detected early such as the Housing gap assembly. The separation of the seam line from the nose cone which acts to be the site for fluid gel ingress. It is important to note that failure of housing gap problems can ultimately lead to the major probe crystal damage issues where you would need to shell out a large amount of money.
Early detection of housing gap defects can help you save a considerable amount of money via preventive repairs, without the need to progress to the major repairs stage.
Strained relief serves as the point of contact between the cable and probe.

The absence of On-time intervention of the strain relief conditions may lead to damage of wires in the cable and connectivity issues.
In most of the cases, Probe oil leakage generally happens in 2 cases namely
Dome crack and Puncture issue

Dome with housing gap issue
These types of leakage conditions create a wavy shadow scan images.

Some of the scan issues that can be identified from a damaged probe
Delamination 2. Dropouts 3. Non- uniformity reverberation patterned images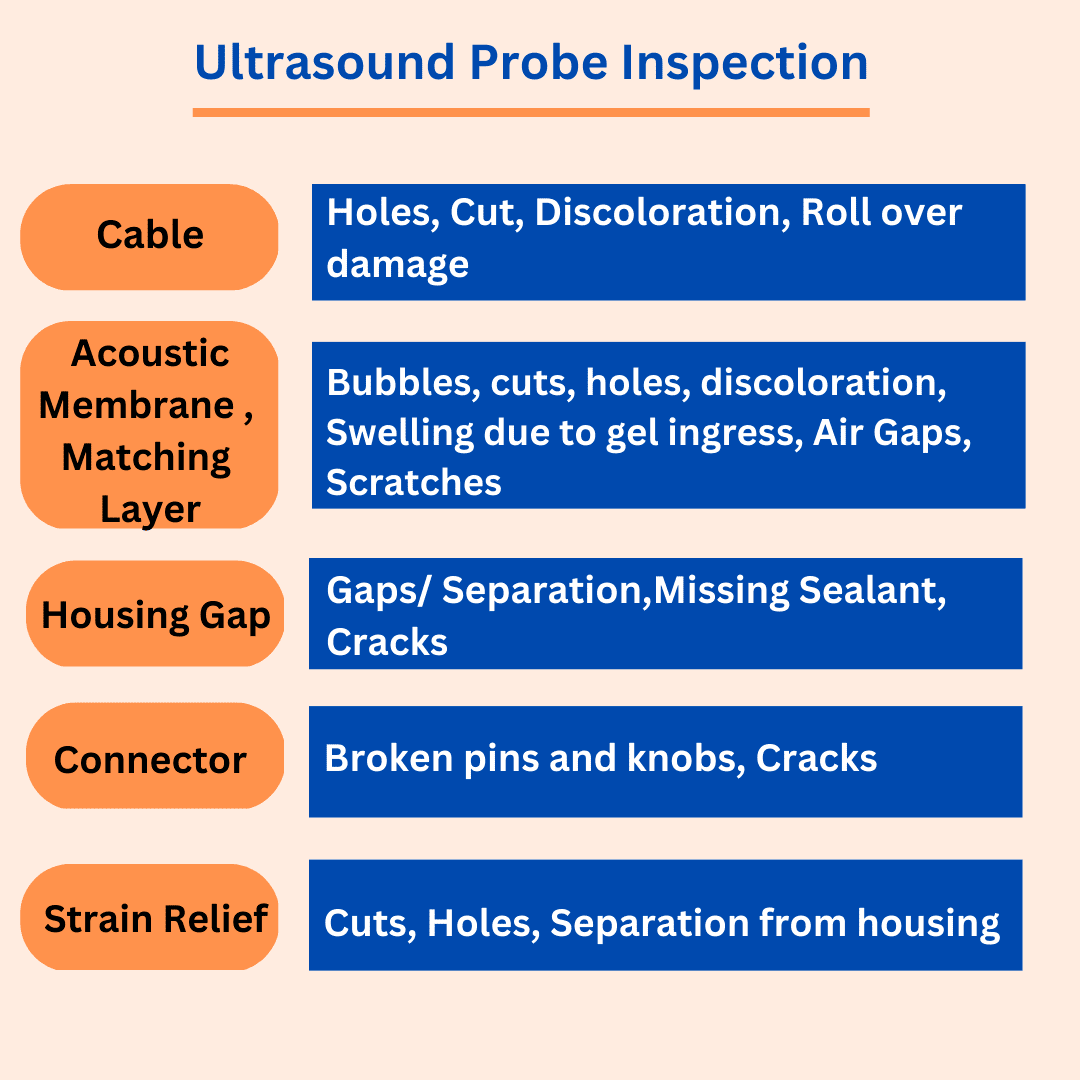 2.Cost Analysis:
In the cost analysis viewpoint, One may need to shell out a few thousand rupees for Cable Reworks, Housing Gap Fills, while it takes around a few hundred thousand rupees for crystal replacement.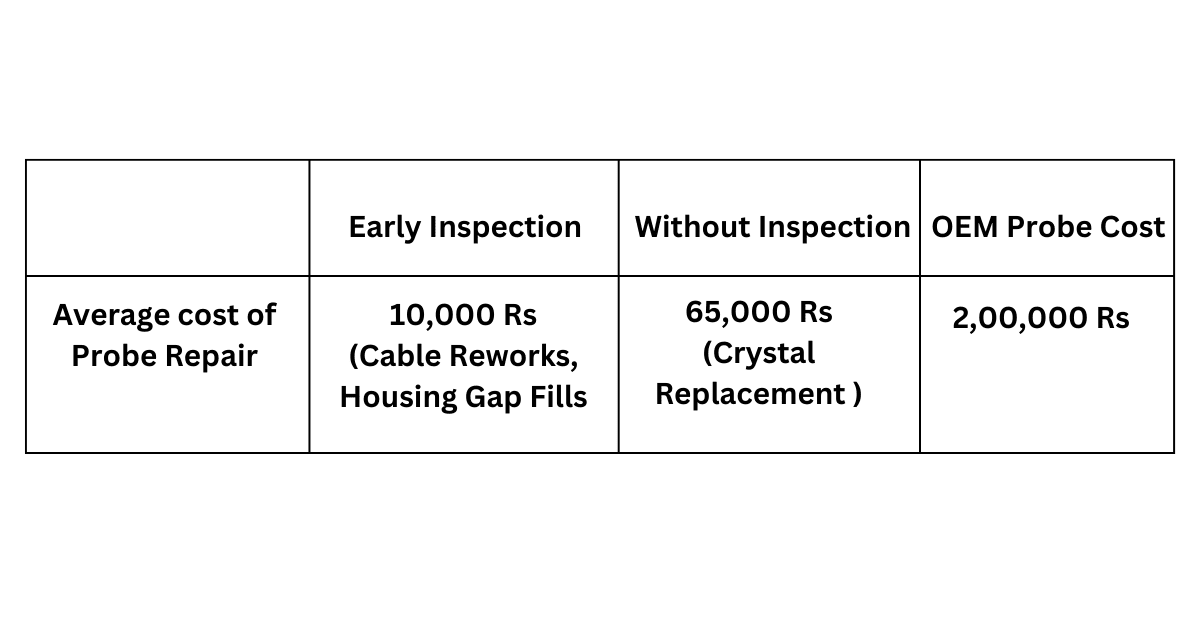 3. How to Choose the right Service repair provider ?
Choosing the right service repair provider is the next step to address your transducer faults.
There are various factors to be taken into consideration while selecting the suitable probe repair providers.
Finding the best and effective repair solutions at an affordable price is something we should rely on.
It is always essential to give your ultrasound probe to the repair providers who give you a warranty for their workmanship and takes responsibility.
Be it a scan centre, multispeciality hospital or clinics , your repaired transducers should be returned in a short lead time to avoid missing patient care/diagnostics. It is preferred to approach repair solution providers who can offer your transducers in a quick turnaround time, probably within 2 to 3 days.
Getting your defective probes at the hands of Certified probe servicing specialists (Eg: ISO 13485) assures that quality management systems are put in place and also the transducer servicing is done in alignment with industry best practices.
The years of probe servicing experience does matter while choosing the right partner. It is also advisable to gain information about the duration of the provider in the industry and quantity of probe repairs provided.
It's always the duty of the end-users ( Sonographers) to inspect their respective transducers on a regular basis such as daily or weekly or semi-annual basis. From our experience, even a semi- annual inspection isn't enough to detect the early signs of probe defects.
It is important for the sonographers to associate with the repair companies to learn more about the early inspection of their probes in order to reduce the future costs.
Here's a guide on the visual inspection of the ultrasound transducer. The guide illustrates on the checklist of the ultrasound transducer defects and the ways of inspecting them.
4. Replacing your Ultrasound Transducer
Refurbished Ultrasound Transducers VS Second Hand Ultrasound Transducers
There is a common misconception being prevalent that " Refurbished and Second Hand Probes are often termed the same".
While talking about Second hand probes, the quality of the repair, and the limited knowledge possessed by the technician who conducts the repair without any proper probe check and documentation report is still questionable.
And this sets apart from the refurbished probe market who carries out stringent quality checks and documentation reports throughout the process.
Second Hand Ultrasound Probe
No probe quality and performance checks are performed in second hand probe.
Purchasing a new transducer is certainly on the expensive side. On the other hand, choosing a second hand transducer is likely to be the least favored choice.
While considering the second hand probe option, it is less likely that you probably won't know the probe service history and its utilization.
Pros:
Purchasing a second hand probe is a cost effective proposition compared to a new probe. This inturn aids in saving a great deal of money.
Cons:
The chances of the following occurs in the second hand probe repair are
The probes are less likely to have no / limited warranty.

Unaware of the probe service and usage history

There is no / limited guarantee on the image resolution while using second hand probe repair.
Refurbishment of Ultrasound Transducers :
Refurbished Ultrasound probe generally involves the repair / replacement of the probe only after the comprehensive analysis of the probe and complete documentation.
A complete overview of the refurbished ultrasound probe analysis consists of the following :
Visual inspection of the probe

Electrical safety testing of the probe

Mechanical testing of the probe

Ensure proper functioning of the transducer
After a detailed and overall report analysis, the required parts of the probe are repaired or replaced.
Pros:
Preferable option for small to medium hospitals that operate on budget constraints or uncertain patient case volumes.

Generally priced 30% - 50% less compared to the OEM Probes
Cons:
Warranties are an issue when it comes to refurbished probes when dealt with unprofessional suppliers.

They are less likely to last or perform as long as the new transducers.